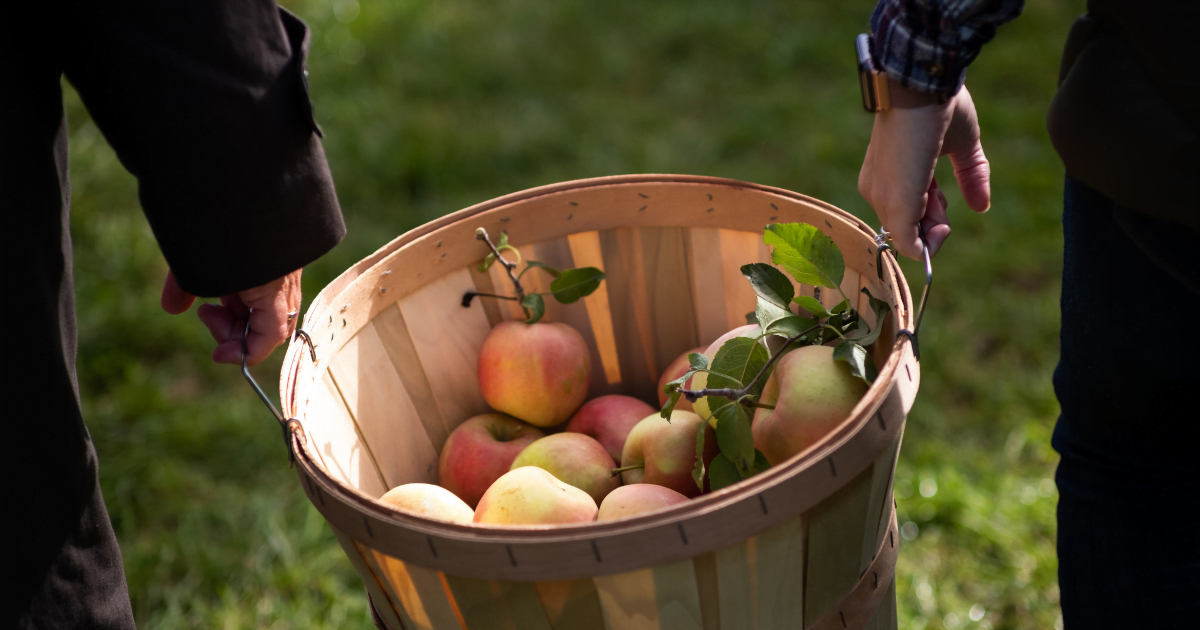 It's officially apple season, and while Napa Valley seems a little confused as to whether it wants to leave summer behind, these blush and crimson gems are here for the picking. Equally delicious in savory and sweet dishes, there's plenty to love about this seasonal favorite. While we love an apple pie as much as the next person, we like the twist of this savory galette. Make it after a day spent browsing the farmers market or tripping through a nearby apple orchard. Serve alongside a salad of butter lettuce tossed in a light vinaigrette for a complete meal. As always, tag us on our social channels if you decide to share.
ONION JAM
1/4 cup extra-virgin olive oil

3 large sweet onions, cut into 1/4-inch dice

2 parsley sprigs

2 bay leaves

1 rosemary sprig

1 cup sugar

3/4 cup white balsamic vinegar

Kosher salt
METHOD:
In a large pot, heat the olive oil until shimmering. Add the onions and cook over medium to low heat, stirring occasionally until golden brown, about 20-25 minutes. Tie the parsley, bay leaves, and rosemary together with kitchen twine. Add the herb bundle to the diced onions and cook over low heat, stirring a few times, until fragrant, about 3 minutes.
Sprinkle the sugar over the onions and cook, without stirring, until the sugar melts, about 5 minutes. Increase the heat to high and cook, without stirring, until an amber-brown caramel forms, about 6 minutes. Stir in the white balsamic vinegar and simmer over low heat, stirring a few times, until the jam is thick, about 5 minutes. Discard the herb bundle. Season the jam with salt and let cool to warm.
Pro-tip: Make this jam ahead of time. It can be refrigerated for up to 5 days. Serve warm or at room temperature. It's also delicious served alongside sharp cheddar cheese!
APPLE CHEDDAR GALETTE
2 cups sifted all-purpose flour

1 teaspoon salt

1 TBSP chopped, fresh basil 

1 TBSP chopped, fresh oregano

1 tsp chopped, fresh thyme leaves 

1 TBSP chopped, fresh chives

1 teaspoon chopped, fresh rosemary

1 large egg lightly beaten

1/2 teaspoon white vinegar

1/4 cup ice cold water

10 tablespoons cold unsalted butter, cut into pieces

⅔ cup freshly grated sharp cheddar cheese

1 cup shredded medium to sharp cheddar cheese, 

2 green apples

1 egg, lightly beaten with 1 tbsp of water 

Salt and black pepper to taste
METHOD
CHEDDAR HERB CRUST
Add the flour and salt to a food processor and pulse just until combined. Add in the herbs and pulse again. In a small bowl, whisk together the egg, vinegar and water. Add the cold butter pieces and cheese into the food processor and pulse until small coarse crumbs remain. Sprinkle the water/egg mixture over the flour and pulse again until the dough comes together.
Remove the dough with your hands and wrap it in plastic wrap. Refrigerate the dough for 30 minutes. After 30 minutes, preheat the oven to 375 degrees F.
Roll the pie crust out into a 12-inch circle (if you're using a 9-inch pie plate). 
ASSEMBLE GALETTE
Carefully transfer the rolled dough to a baking sheet covered in parchment. The best way to do this is to gently roll the dough around the rolling pin, then unroll it on top of the baking sheet.
Spread the onion jam evenly in a circle around the bottom of the rolled dough, leaving about two inches of pie crust around the border to fold over the top later. Distribute the shredded cheddar cheese evenly on top of the jam. 
Core the apples and slice in half. Slice each half very thin, preferably using a mandoline on one of the thinnest settings. Fan the apple slices decoratively on top of the cheese. Top with a light sprinkling of salt and pepper. Fold the excess dough on top of the ingredients in a circle, until you have a tightly formed tart.
Using a pastry brush, lightly brush the top of the dough edges with your egg wash. Sprinkle with some Maldon Sea Flakes or small amount of kosher salt to flavor. 
Bake the galette until the dough is firm and browned, approximately 18-22 minutes.